Albany Attorney Richard L. Smith Honored By The Financial Service Centers Of New York, Inc.
May 30, 2013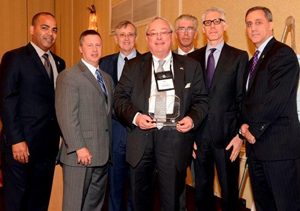 (Albany, NY): Bond, Schoeneck & King, PLLC is pleased to announce that Richard L. Smith, a Member (Partner) in the Firm's Albany office was recognized by the Financial Service Centers of New York, Inc. with its 2013 Industry Service Award, for his support and representation of New York State's licensed check cashing industry.
Mr. Smith was honored for his tireless service on behalf of the industry and his contributions to its success and advancement. He was recognized for providing leadership and sage counsel; developing strategies; and educating the association's leaders about the industry.
Mr. Smith is Co-Chair of the Firm's Administrative, Legislative, Regulatory Practice Group. His practice covers all New York State Administrative and Regulatory Agencies, the New York State Legislature, the Governor's Office and the Comptroller. Mr. Smith has been a registered lobbyist for 39 years. He practices Tax, Administrative and Regulatory Law before all state agencies, including the New York Department of Taxation and Finance, the Public Service Commission, the Department of Financial Services, the Department of State and the Department of Agriculture and Markets He regularly advises corporations, businesses and individuals on compliance with the Lobby Act, the rules and regulations of the New York Joint Commission on Public Ethics, procurement lobbying and with federal and state campaign contribution rules.
Mr. Smith is a graduate of Colgate University and Cornell Law School.
(Pictured left to right: Jason Carballo, Matt Bardach, Joe Coleman, Dick Smith, Jim Eustis, Ira Krell, Ed D'Alessio)