Jessica Moller Honored as a Long Island Business News "40 Under 40"
February 4, 2016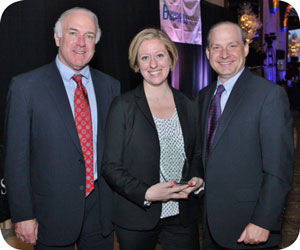 (Garden City, NY) February 4, 2016… Jessica C. Moller, a member (partner) of the law firm Bond, Schoeneck & King PLLC, has been named among the "40 Under 40" by Long Island Business News, Long Island's top business publication. 40 Under 40 recognition is conferred upon a select group of individuals younger than 40 years of age, as nominated by their peers, colleagues and clients, and chosen by a panel of local business leaders. Pictured with Jessica are Bond, Schoeneck & King Garden City Office co-managing members Bernard Kennedy (left) and Craig Olivo.
Craig Olivo, who hired Jessica right out of law school after she interned at the firm, had this to say about her. "I couldn't be more pleased to see Jessica recognized for the extraordinary job she does providing service of superior quality and value for our clients, and to our firm. She is most deserving of this honor."
Jessica Moller concentrates her practice in the area of employment litigation representing employers in both the private and public sector, and has successfully defended employers in federal and New York State trial and appellate courts against claims of employment discrimination, harassment, retaliation, invasion of privacy, constitutional violation, wage and hour violation, and many others. Jessica also regularly provides guidance to employers on day-to-day personnel and compliance matters, and serves as an impartial investigator of discrimination and harassment complaints and allegations of misconduct.
In addition to her busy law practice, Jessica is active in professional organizations, and through them, gives back to her profession and community. She is active in the Nassau County Women's Bar Association (NCWBA) and as Vice President coordinated a monthly Continuing Legal Education (CLE) series for its members. She has also presented CLE classes on various employment issues, including sexual harassment, for the NCWBA and Nassau County Bar. As an officer and volunteer for the Nassau County Women's Bar Foundation, Jessica recently helped raise approximately $35,000 to support breast cancer awareness and research. She also sits on the Business Advisory Council of the North Shore Child and Family Guidance Center (NSCFGC), a not-for-profit children's mental health agency, and helps organize charity outreach for Bond's Garden City office.
Jessica is also active on the firm's Diversity Committee and its Women's Initiative, which promotes the professional development of women attorneys throughout the firm and supports programs for business women in the larger communities to create additional opportunities for personal, professional and collaborative growth.
In her spare time, Jessica enjoys reading Jane Austen or historical fiction, working with her husband on their 175-year old house in Stony Brook, N.Y., and boating or kayaking.
Bond, Schoeneck & King, PLLC is a law firm with more than 270 lawyers servicing private and public sector clients, and individuals, in a broad range of practice specialties. Bond has nine offices in New York State, including New York City and Garden City, and one in Naples, Florida and Overland Park, Kansas.