Senior Trust and Estate Attorney, Edward C. Radin, Joins Rochester Office
April 16, 2012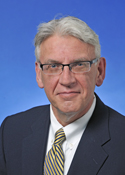 (Rochester, NY): Bond, Schoeneck & King, PLLC is pleased to announce the addition of Edward C. Radin as a Member (Partner) in the firm's Trust and Estate Practice. Radin brings to Bond 34 years of experience with complex estate planning and trust and estate litigation.
Radin was previously a partner at the Chamberlain D'Amanda, law firm in Rochester, NY where he was a member of the firm's management committee since 1984 and the Managing Partner since 1995. Radin's trust and estate practice includes serving individuals and businesses with drafting business agreements; business succession planning and implementation; wills, life insurance and charitable trusts; long-term planning for retirement and healthcare-related issues; representing beneficiaries and fiduciaries in contested estate and trust matters; and counseling on estate tax matters with clients and accountants. He has served as lead counsel on a number of reported decisions in fiduciary litigation cases at the trial and appellate levels.
Radin received his Bachelor of Arts from Fordham University and his law degree from St. John's University School of Law. Radin is listed in New York Super Lawyers 2011 and, at the 16th Annual Leaders in Law and Nathaniel Awards dinner in Rochester, NY, was named as a 2011 Leader in Law for his personal and professional accomplishments. Radin is a frequent lecturer for numerous organizations, including the Rochester Institute of Technology Tax Institute, the National Business Institute, the Estate Planning Council of Rochester, and the Monroe County and New York State Bar Associations.