Careers
We thank you for your interest in a career at Bond, Schoeneck & King and encourage you to learn more about the firm, its practices, its people and the firm's environment that is both challenging and fulfilling.
To view our current opportunities, click here.
Bond's success and growth for over a century is founded upon its focus upon hiring attorneys and professional staff with not just the requisite long-term career goals and educational credentials, but with those attributes that make them likely to become leaders in their field. These attributes include being team-oriented, flexible, innovative, setting high personal standards and self-motivation. Furthermore, the firm has developed a culture and programs that contribute to the development of such individuals in their drive to meet and exceed the expectations of our clients and their own colleagues.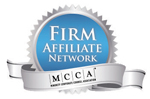 Bond is a member of The Minority Corporate Counsel Association, Inc. (MCCA). MCCA was founded in 1997 to advance the hiring, retention, and promotion of diverse attorneys in legal departments and the law firms that serve them. MCCA accomplishes its mission through the collection and dissemination of information about diversity in the legal profession. For more information, visit www.mcca.com.