Monthly Feature: Get to Know... Howard M. Miller
September 1, 2023
Talk to enough lawyers and you start to see certain patterns emerging. A love of running, for instance. (Not for political office. Think half-marathons here.) So many attorneys featured in this space have talked about finding peace and release by putting on their trainers and hitting the pre-dawn streets.
But not Howard Miller.
Howard dons a gi and grapples, sweeps and chokeholds his way through Brazilian jiu-jitsu classes and competitions.
"It's not a typical hobby for lawyers of my age group, but I absolutely love it," he says. "I get to meet people from all over the world and every walk of life you could possibly imagine. Every kind of nationality and profession. We all share this insane addiction to this sport and compare notes on our injuries."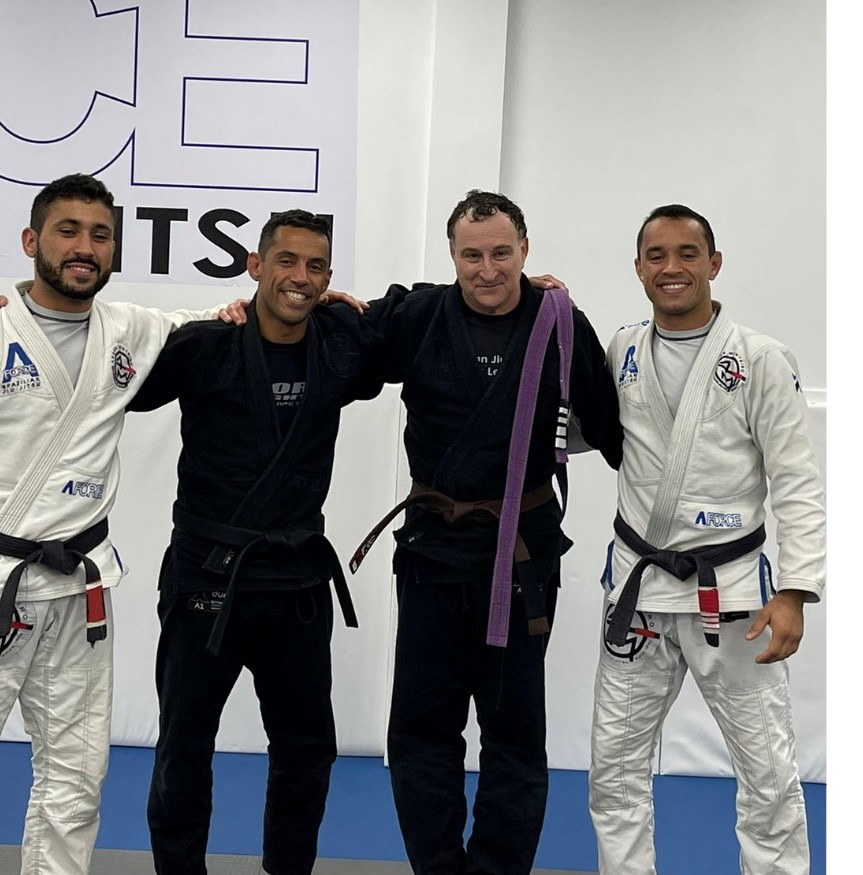 Jiu-jitsu, which exploded in popularity in the 1990s when the Ultimate Fighting Championship (UFC) burst onto the scene, served as a natural extension for Howard, who wrestled in high school on Long Island and has practiced other styles of martial arts.
On his suit-and-tie days, Howard is the deputy managing member of the Garden City office of Bond, Schoeneck & King, where he practices education and labor and employment law. He admits he might have shown up to a client meeting or two with noticeable bruises. But sometimes that can be a plus for the soft-spoken attorney.
"In one school district I represent, the superintendent and a couple of board members are former wrestlers," he says. "I think they like that I'm not just a law geek, but have this other side."
A legal career wasn't always in the cards for Howard. He majored in finance at the State University of New York at Albany, and after graduation went to work for an investment banking firm in Manhattan. Looking back, he thinks maybe he didn't have the discipline for law school right out of college. But after a year of working for a boss "who ate nails for breakfast," he was ready and enrolled at St. John's University School of Law.
His first law firm was a Wall Street behemoth, where he did class action securities litigation. But it was a special education pro bono case, representing the family of a child who suffered a traumatic brain injury, that first sparked his interest in education law. He followed that up with an animal rights pro bono case, involving the recovery of stolen greyhounds from a research facility. Both cases helped broaden his view of the law and the tangible good it could manifest.
Howard has been representing public school districts, libraries, colleges and other public and private sector clients ever since.
Longtime client Robert Vecchio has been on the receiving end of that assistance.
"I had the pleasure or working with Howard for over 18 years when I was a trustee and board president for the William Floyd School District," says Vecchio, now executive director of the Nassau-Suffolk School Boards Association. "He literally saved our district millions of dollars due to his expertise and talents, most notably by resurrecting the faithless servant doctrine to claw back salaries paid to two employees who stole from our school district.
"We recouped over $1 million from that case alone, which we refunded to taxpayers through a tax levy reduction," he continues. "Thanks, Howard, for serving the public education community so well for so many years."
When he's not advocating on behalf of clients, Howard often can be found speaking at national conferences, a skill he had to hone.
"I'm comfortable at the lectern now, but I used to be utterly petrified," he says.
Howard also frequently pens articles for law journals with titles that are peppered with pop culture references (e.g., "Don't Let Your Office Become 'The Office,'" "A Labor and Employment Audit of Santa's Workshop," and "Lloyd Dobler's View of Job Responsibilities Can't Defeat Garcetti Defense").
"They're still instructional, but I try to be a little goofy and entertaining, too," he says.
Howard and his wife, an educator, have three children: a daughter pursuing her master's at Yale Divinity School and twin boys, one studying aerospace engineering at Purdue University and the other majoring in international relations at William and Mary.
All three are "intrinsically motivated," he says, to the point where he sometimes cautions them "to please not study so hard."