About Bond
We are a full-service law firm counseling individuals, companies, not-for-profits and public sector entities in a wide spectrum of practice areas.
With 285 lawyers and offices across New York State as well as offices in Boston; Kansas City; Naples; West Palm Beach and Red Bank, New Jersey, we represent clients in:
real estate development and construction
health and long term care
manufacturing
higher education
municipalities and school districts

commercial lending and transactions

hospitality

exempt/nonprofit organizations

agribusiness
Bond: Knowledgeable, Professional and Accessible
Knowledgeable, professional and accessible are three words our clients have frequently used to describe us.
Knowledgeable: "With Bond, I have real advocacy and competence in front of me" says one of our C-suite client executives. Our emphasis is on a "one-firm" approach to solving problems with the breadth to put the right team together for our clients.
Professional: "Bond is as good a firm as any we've dealt with. Their expertise has given us the ability to analyze projects, businesses and situations and make prudent, timely decisions" according to the president of a real estate development company. We share our clients' passion for their businesses and listen carefully to understand their needs, examine multiple angles and identify strategic solutions.
Accessible: According to the director of human resources of a manufacturing company, "Bond is very attentive and personable; I feel as if I'm the firm's only client. They always get back to me, regardless of the time of day. I'm never waiting for a response or letter they're preparing, and they ensure I always have the resources I need." If our clients feel an issue is important to them, it's important to us. We understand that time is critical, especially in today's 24/7 world, and we're there to respond.
Firm Overview
We are proud to share with you our 2021 Annual Report, "Strong Bonds. Smart Connections." As we navigated year two of the pandemic, Bond attorneys worked hard to build strong connections with our clients. Working together we were able to achieve countless accomplishments to move our clients forward. This annual report highlights some of the wonderful work that was completed, and accomplishments achieved.
Kevin M. Bernstein, Chairman of the Management Committee
2021 Annual Report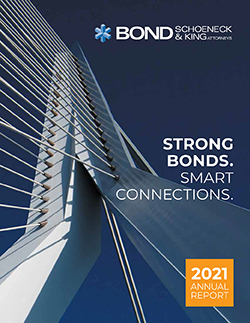 Bond is a member of the following alliances to further extend our network and enhance our service to clients and the law profession:
Employment Law Alliance
The Employment Law Alliance is the world's largest and most important network of labor and employment lawyers. The ELA as a whole is a top-ranked Chambers and Partners Elite Global Network – the rating service's highest distinction, with the largest number of individual attorneys ranked of any network. Through the ELA, our firm has the ability to serve our clients' needs throughout the U.S. and around the world. For more information about the ELA, please visit www.ela.law.
Law Firm Alliance
The Law Firm Alliance is a leading global network of full-service law firms. Established in 2000, the LFA's goal is to provide clients of member firms with access to high quality, cost-effective legal services in jurisdictions worldwide. A judicious member selection policy is in place and, since its establishment, membership has grown to 50+ law firms with close to 3,000 lawyers practicing throughout North America and internationally. For more information about the LFA, please visit www.lawfirmalliance.org.
Wage & Hour Defense Institute
The Wage & Hour Defense Institute (WHDI) of the Litigation Counsel of America is comprised of experienced wage and hour defense attorneys from across the United States. The WHDI serves as a nationwide network for top-tier practitioners in what is a highly nuanced area of the law. Each member was selected for membership in the WHDI based on his or her individual skills and experience representing management in the defense of wage and hour litigation. For more information about WHDI, please visit www.wagehourdefense.org.