Bond Pro Bono Program and Efforts Honored by New York State Bar Association
May 14, 2012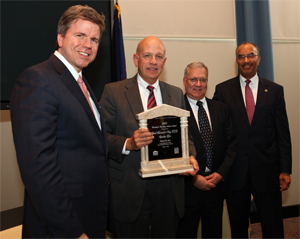 (Syracuse, NY): Bond was selected by the New York State Bar Association to receive the 2012 President's Pro Bono Service Award. On May 1, 2012, Law Day in Albany, NY, Richard D. Hole, Bond's Management Committee Chairman, accepted the award on behalf of the 65 firm attorneys and legal assistants who have provided pro bono legal services to indigent persons throughout New York. And, following that event, at the Annual Law Day Luncheon on May 3 hosted by the Onondaga County Bar Association in Syracuse, Mr. Hole again received recognition for the Firm's Pro Bono efforts.
The Firm was nominated by the Onondaga County Bar Association for this award primarily based on extensive pro bono work in the Syracuse area by providing pro bono representation to indigent persons at eviction defense clinics in Syracuse City Court and the Village of East Syracuse Justice Court and at the "SAY YES" law clinic at Elmwood School. As an example of the community recognition which this pro bono work has generated for the Firm, the Syracuse City School District submitted a letter in support of the Firm's nomination.
Special recognition is due Emily Brown, Stephanie Campbell, Jim Holahan, Bob Kirchner, Brian Laudadio, Mark Moldenhauer, Joe Nacca, and Colm Ryan for their pro bono work in representing indigent persons in connection with recent judicial assignments in federal and state court. Also, in recent years, Bill Bergan, Jim Fitzpatrick, Dave Hayes, Brian Janowsky, Tom Kennedy, Tom Myers, and Brody Smith have been recognized by the local and state bar associations for their extraordinary, pro bono work. In Albany, Amy Klein serves as President of the Legal Aid Society of Northeastern New York. In Buffalo, Jim Rooney serves as President of The Legal Aid Bureau of Buffalo. In Syracuse, Suzanne Galbato and Suba Viswanathan continue in a long line of Bond attorneys who have served as directors or officers of the Hiscock Legal Aid Society, Legal Services of Central New York, or the Legal Aid Society of Mid-New York.
In addition to representing indigent persons and supporting agencies representing indigent persons, many Bond attorneys and staff are leaders in other community service activities. For example, Richard Kass was recently recognized by Lawyers Alliance for NY for his legal service to not-for-profit organizations in the New York City area. Ed Kelley was honored by the Syracuse Newspapers with a Community Achievement Award for his work with the local YMCA. And in March, the Educational Foundation of the Syracuse City School District recognized the efforts of Bond staff and attorneys who for the last five years participated in a literacy program at Elmwood School.
However none of this recognition would be possible without the underlying work of George Lowe, who for years has encouraged and organized lawyers, inside and outside the Firm, to provide pro bono services to indigent persons and to perform community service work. And Tom Myers should also be recognized for his outstanding job in maintaining, fostering, and managing Bond's pro bono efforts over the last two years.
Photo: Richard Hole Receiving NYS Bar Association 2012 President's Pro Bono Award
L to r: Vincent Doyle, NYSBA President: Richard Hole, Thomas Myers, Bond Pro Bono Coordinator; Seymour James NYSBA President Elect