Bond's Garden City And New York City Offices Participate In The 2012 Marcum Workplace Challenge
September 6, 2012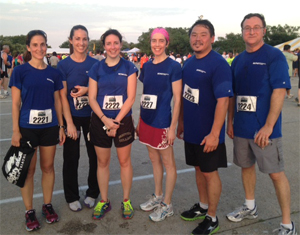 (Garden City, NY): On July 31, Garden City and New York City attorneys and staff participated in the Marcum Workplace Challenge at Jones Beach. Bond's team was the fifth female team overall and the first place female law firm team.
The 3.5-mile Marcum Workplace Challenge is Long Island's largest participatory sporting event and charity fundraiser. Thousands of runners and walkers, cheered on by thousands of colleagues, friends and families, raise much-needed funds for three wonderful community organizations, while spending a healthy, fun-filled evening in one of Long Island's most beautiful parks. Sponsoring companies and other local businesses host the region's biggest corporate picnic, with food, festivities and fun for all. The event has raised over $150,000 for local charities.
The 2012 beneficiaries include the Children's Medical Fund of New York, Long Island Children's Museum, and Long Island Cares - The Harry Chapin Food Bank.
(Pictured left to right) Lauren Darienzo, Hilary Moreira, Emily Harper, Tina Roese, John Ho, Howard Miller.
Bond, Schoeneck & King, PLLC, founded in 1897, is a full service law firm comprised of more than 200 attorneys, with offices in New York City, Albany, Buffalo, Garden City, Ithaca, Oswego, Rochester, Syracuse and Utica, New York; as well as Overland Park, Kansas; and Naples, Florida.