Northern District Of New York Federal Court Bar Association Awards Hon. George H. Lowe
December 2, 2012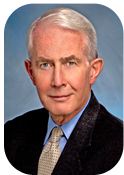 (Syracuse, NY): On November 29, 2012 at the Annual Dinner of the Northern District of New York Federal Court Bar Association, Hon. George H. Lowe, currently Of Counsel to the Bond Schoeneck & King, PLLC law firm, received the Hon. James R. Duane Award which recognizes those distinguished members of the bar who carry on Judge Duane's legacy of commitment to the practice of law, unswerving integrity, and tireless efforts on behalf of the people of New York. Judge Lowe is just the 7th attorney to receive the award.
The Honorable George H. Lowe recently retired as a United States Magistrate Judge for the Northern District of New York. Before taking the bench Judge Lowe was a partner at Bond, concentrating his practice in white collar criminal defense and federal court civil litigation, for twenty-one years. Prior to joining the firm, Judge Lowe served as the United States Attorney for the Northern District of New York and had a lengthy career as a federal prosecutor. In addition, in 2010, Chief Judge Lippman appointed Judge Lowe to the Task Force to Expand Access to Civil Legal Services in New York.
Judge Lowe is a past President of the Onondaga County Bar Association, and a former Chair of the Fifth Judicial District's Committee on Character and Fitness. He has served on the boards of Legal Services of Central New York and the Onondaga County Bar Foundation. While in practice, Judge Lowe received numerous honors for his service in pro bono cases and is currently co-chair of the New York State Bar Association's Committee on Access to Justice. In 2007, he received the Onondaga County Bar Association's Distinguished Lawyer Award.